A unique platform that improves the productivity of health, wellness, and sport professionals.
Get productive
All essential coaching features in one place. 
Focus on what's important
Forget about the hassle of invoicing your clients. We can do it for you!
Improve your coaching
Customize the platform to suit you and your customers.
Coach4Pro is a cloud-based platform.
Use it on your computer or tablet, and download the mobile application from the App store or Google Play.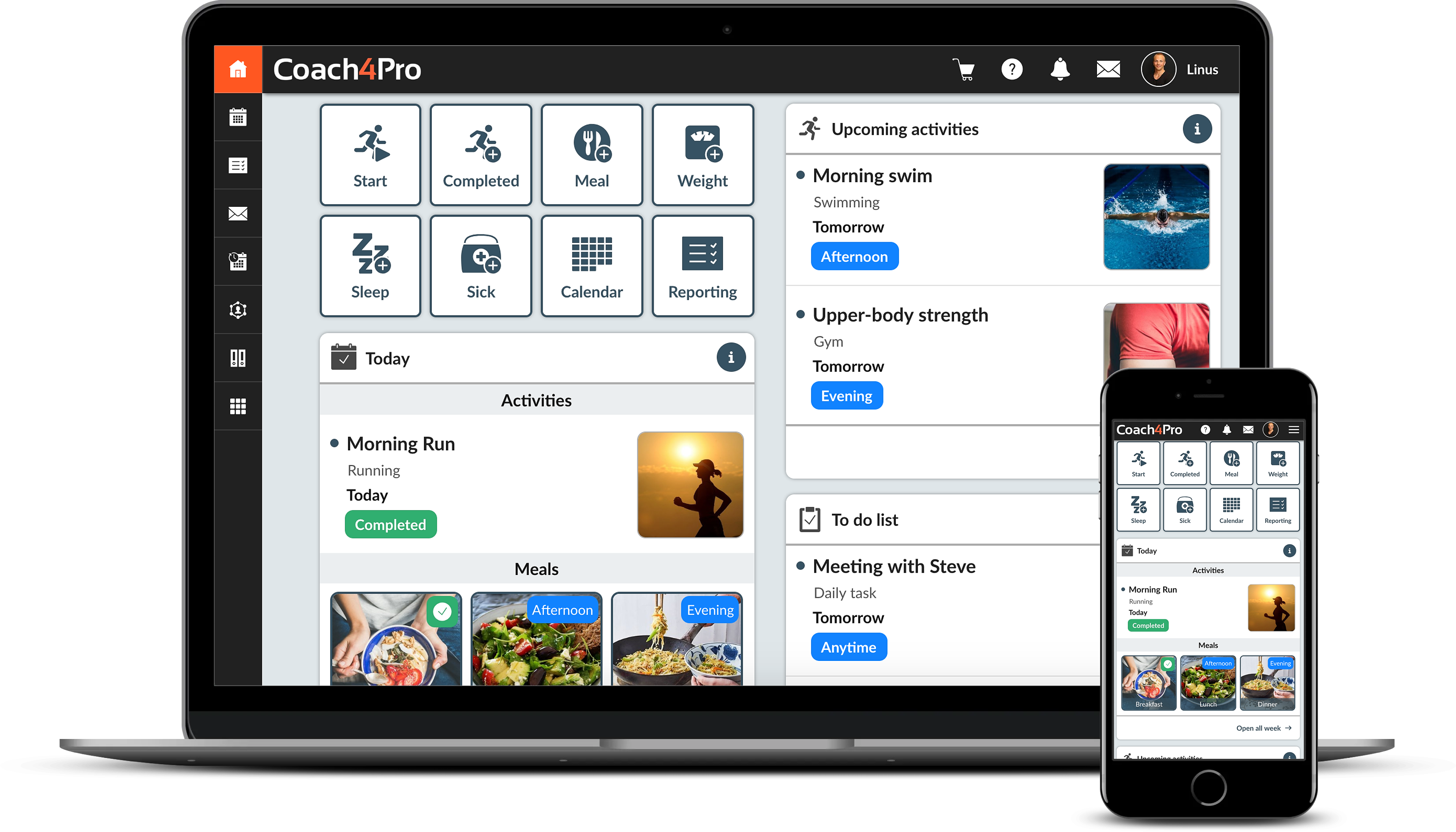 3 minute introduction video 
The Calendar
Stay up-to-date with your clients and teams.
– Look at your client's or team's calendar
– Create events and add content
– Team event participation (IN/OUT)
The Planner
The intuitive planner tool makes building plans easier than ever.
– Training, nutrition and messaging plans
– Drag and drop events to the plan
– Up to one year long plans
– User-friendly interface
The Messages
Don't waste time searching for old messages between you and your clients from different services.
– One-on-one and group discussions
– Push notifications 
– Timed messages
– Announcements
The Reporting
View all of your client's performance and activity data in one page.
– Sports, nutrition, and recovery reporting
– Individual and team reporting
– Compatible with Emfit, Garmin, Suunto, and Polar services
– Self-evaluation reports
The Teams & Connections
Use teams & Connections to make coaching groups, and individuals, easier and more efficient.
– Send messages to everyone at once
– View your clients' profiles and reports
– Strenghten the coach-client relationship
The Library
Versatile content creation and management.
– A secure platform where the content you create is always in your control
– Create content yourself or in collaboration with others
The Shop
Add your services and products to the shop to make selling and buying your products easier. 
– Single purchases or monthly subscriptions
– Multiple billing possibilities
The Questionary
Stop guessing, just ask! Use the versatile questionary tool to activate your customers. 
– Opinion surveys
– Voting
– Result reporting
Get started now. Take the free trial.